Aerosmith Tickets
No Buyer Fees Aerosmith Tickets - Up to 30% Off Compared to Competitors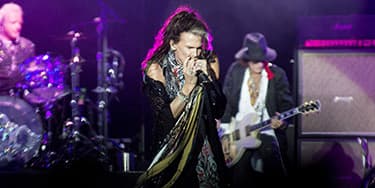 Location:
Select Location (e.g, New York)
About Aerosmith
Get ready to rock with the legendary band Aerosmith in 2023! Secure your Aerosmith tickets now and be part of an unforgettable live event. Renowned for their energetic performances and iconic hit songs, Aerosmith events have always been monumental, leaving fans eager for more. This year's Aerosmith 2023 tour is set to be even more explosive.
The band is set to hit major cities including Chicago, Atlanta, New York, Dallas, and many more. With tickets starting at competitive prices, fans can witness the band's electrifying performance without burning a hole in their pocket. And with our Aerosmith tickets promo, you can experience the live thrill at an even better deal.
In the past, Aerosmith events have seen staggering attendance, marking their performances as historic. This year, the band will play in Portland on November 25 with tickets as low as $68.25. They will also be performing in Austin on October 23, with the lowest ticket price at $156.46. For fans in Salt Lake City, mark your calendars for November 22, where ticket prices start at a mere $110.25. And let's not forget about their performance in San Antonio on November 1, with the lowest ticket price at $75.17.
Our platform ensures a smooth buying experience with no hidden fees. Yes, that's right – Aerosmith tickets no fees! Our transparent pricing allows you to plan your experience without any surprises. And with our secure and user-friendly platform, getting your Aerosmith tickets is just a few clicks away.
Don't miss out on this opportunity to see Aerosmith live in 2023. Secure your Aerosmith tickets today, and get ready to rock out to hits like "Dream On," "Sweet Emotion," and "I Don't Want to Miss a Thing." Be part of the crowd and experience the pulsating energy of an Aerosmith event. This is your chance to relive the history, the music, and the rock and roll spirit that Aerosmith embodies. With their 2023 line-up, Aerosmith is ready to set the stage on fire, and you won't want to miss it!
Frequently Asked Questions About Aerosmith Tickets and Events
What is the average price of Aerosmith events?
The average price of Aerosmith events is approximately $722.
How does the event pricing vary across different cities?
The event pricing varies greatly depending on the city. For instance, the average price is around $399 in Portland, $695 in Austin, $542 in Salt Lake City, $619 in San Antonio, and so on.
Can you provide information about Aerosmith events in 2023 and 2024?
Yes, Aerosmith has several events lined up from 2023 through 2024. This includes performances in cities like Portland, Austin, Salt Lake City, San Antonio, Omaha, Saint Paul, Seattle, Detroit, Washington, Philadelphia, Montreal, Chicago, Newark, Boston, Cleveland and many more.
What is the range of ticket prices for Aerosmith events?
The ticket prices for Aerosmith events can range anywhere from as low as $68 to as high as $8224, depending on the city and seating availability.
Do Aerosmith events experience price fluctuations throughout the year?
Yes, the prices of Aerosmith events can fluctuate throughout the year. Various factors such as demand, location and time of year can cause changes in the pricing.