Why are Tickets Fees So High?
And How To Avoid It
What actually are Live Event Ticketing Fees? How can Fees be 20 to 40% of Ticket Prices?
Share Now and Get 17% Off on All type of Tickets - Help us Skip Google
You might have notice it before (or about to) - those concert or sports tickets look pretty cheap at first but when you get to actually put your credit card information to buy it the price of those tickets increase by up to 41% 😱
These aren't really "Fees" -
It's a Marketing Tactic called
Drip Pricing
- Let's dive into it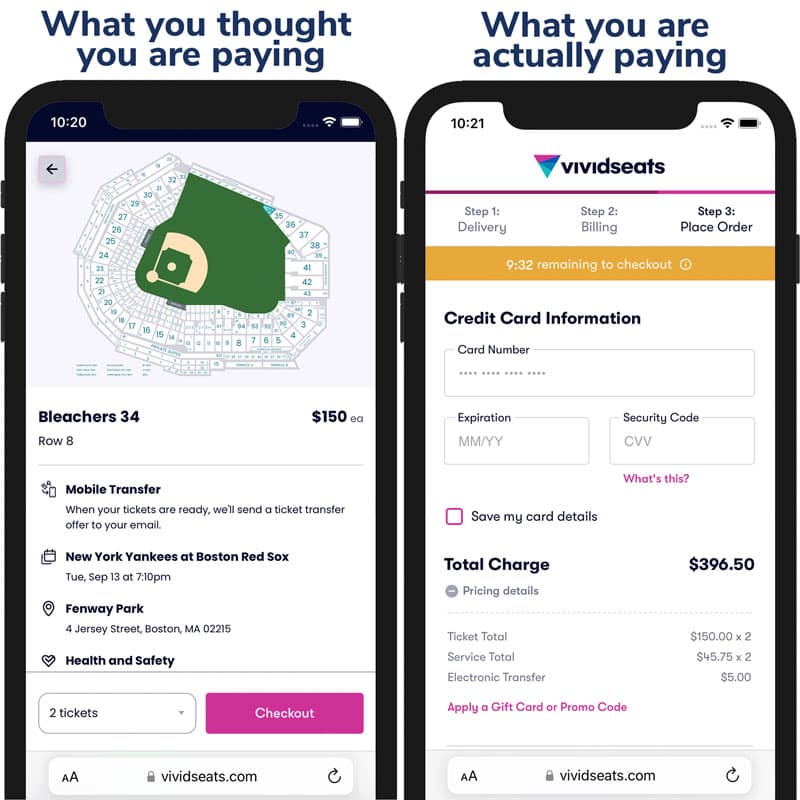 Why Do Ticket Sites Have Fees?
Because on average, people overspent on their tickets when they can't see the real price - Known as Drip Pricing Strategy - so companies would decrease the price they actual got the tickets for so that they look more affordable than their competitors - then tack on those fees.
Where do those tickets fees go? Why do they keep increasing?
So obviously these ticket sites are companies so they need to make some kind of profit, pay their employees, sellers, etc - But the real person who gets most of those fees might surprise you.It's
Google
For most people, tickets are a one off purchase - so majority of people Google "concert tickets" or "(insert performer name) tickets". And with Search comes Ads - and the cost are Steep
Cost per click for a normal event can be more than $23 and increasing, companies need around 100 clicks for one order. Ticketing Companies Pay Google more than they pay their own Employees or Investors
So Yeah - Those fees? Majority of it went to Google
How To Avoid Ticket Fees? What can you do about it?
But for majority of site this is still be a problem
Solution 2 - Toggle Include Fees
For sites that they do offer it, try to find a toggle for "Include Fees". Due to legal pressure, many sites do have it - it's just well hidden so only a few of their customer sees it.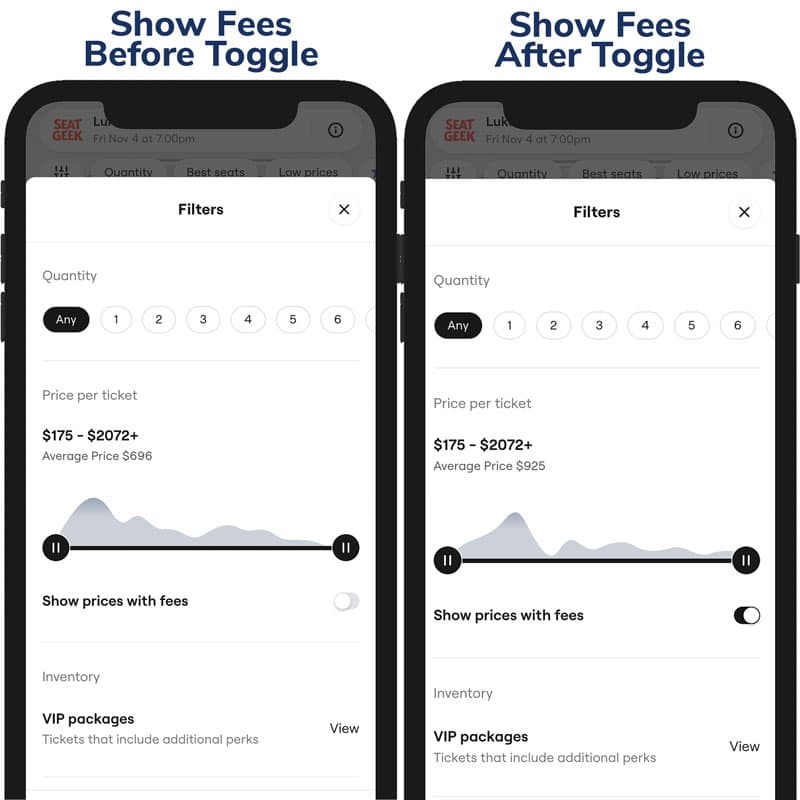 Solution 3 - Request from Attorney-General
Send an email to your Attorney General of your State to support motion for All In Pricing for Live Event Ticketing. They are actively investigating this
Here are Tickets Executives testifying to Congress, in an investigation to ban this practice.
Are No Fees Ticket Sites Cheaper?
No, Not always. Having fees give sites a super power to charge 21% more than sites that don't have fees for the same tickets (by indepent berkeley research).
But it is still up to sites whether to abuse it or not - That being said, it does raise a question as to why a site would have fees if they weren't going to charge more.
But.. How To Get Better Seats Tickets For Even Cheaper Price?
We feel you! No Fees certainly is one way - But a bigger way is for Ticket Sites to skip Marketing Cost to Google. We are aiming to do just that at MegaSeats
Share Now and Get 17% Off on All type of Tickets - Help us Skip Google
Let's See How Much You Will Save With Megaseats
| Price Range | SeatGeek | MegaSeats | Savings |
| --- | --- | --- | --- |
| $300 | $336.63 | $315.2 | Save -6.4% |
| $100 | $125.5 | $109.6 | Save -12.6% |
| $50 | $71.34 | $60.8 | Save -14.7% |
| $20 | $38.4 | $27.2 | Save -29.5% |
| Price Range | SeatGeek | MegaSeats |
| --- | --- | --- |
| $300 | $336.63 | $315.2 (-6.4%) |
| $100 | $125.5 | $109.6 (-12.6%) |
| $50 | $71.34 | $60.8 (-14.7%) |
| $20 | $38.4 | $27.2 (-29.5%) |